Penny Rounds
Penny Round Tiles are the perfect, timeless addition to any space. Use these charming round tiles to refresh and invigorate your bathroom floor, kitchen backsplash and more. Please note that only select colors are offered online at this time. To order handmade ceramic Penny Rounds in any other of our color options, contact us
here
. We'd love to talk tile with you! 
Penny rounds are so called because the traditional tile is the same diameter as a penny. Mercury Mosaics hand-crafted penny rounds are closer in size to a half dollar making them fifty times as valuable as the traditional penny round. Unfortunately, "Half-dollar rounds" doesn't have the same ring (or the storied history) so keeping the classic name was a no-brainer. No matter the name, these handmade ceramic Penny tiles are fun and playful.
Penny tile has been used on bathroom floors for years, but never achieved the commonplace usage that the hexagon tile did. This happy accident makes them familiar, yet interesting. Their round shape is also evocative of water, making them a logical choice for the bathroom.
Like most small floor tiles, penny round floor tiles have formerly come in white and black. What makes Mercury Mosaics handmade Penny Rounds really desirable is the ability to make them pop with bright colors. Nearly all of our signature colors are available on these joy-bringing rounds. A gorgeous green or a soothing blue are perfect colors for a powder room floor or a full master bath, and we can make them both.
These handmade ceramic Penny tiles aren't just for the floor of your deep-tub oasis however; they look fantastic on walls or as accents to shower niches. They also work excellently as a kitchen backsplash, especially if you have a modest kitchen; the smaller format of penny round tiles can help to make a big impact. These handmade ceramic Penny tiles are also good for kitchens that are broken up with a lot of windows, where the pattern can easily translate around the maze of window trim and cabinets.
Mercury Mosaics Penny Rounds have also been used effectively behind fountains and at the entries to commercial bathrooms, in a fade from green to white, and they were selected as the tool of choice for a large-scale pointillism mosaic, bringing crayons to life at 4 feet high.
Our penny round tiles come in a large size as well, which is about the size of a pop can (Or for anyone who doesn't live in Minnesota, a soda can.) In Minnesota we also say hot dish instead of casserole and play duck, duck, grey duck instead of duck, duck, goose, so take that for what it's worth.
Both sizes of these handmade ceramic Penny tiles are available in two patterns on mesh, one where each row is offset or staggered and the other where the penny rounds are in a grid of straight rows and columns. Each looks great in its own regard, much more like a golden goose than a grey duck. No matter the size or sheet style, adding the aesthetic and playful penny rounds to your space truly is money.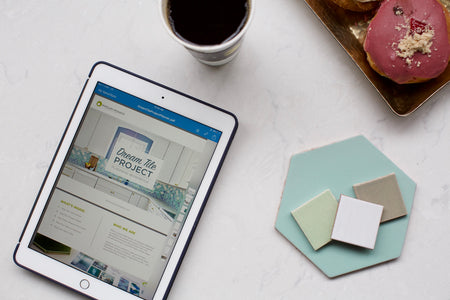 Try Before You Buy
Sample Packs
You can envision and design your space much easier with tile samples (and coffee) in hand. Try one of our foolproof sample packs.
Shop Sample Packs