Bubbles & Pennies
Penny Tile is the perfect addition to any space. Use these charming penny round tiles and bubble mosaic tile sheets to refresh and invigorate your bathroom floor, kitchen backsplash and more. Please note that only select colors are offered online at this time. To order handmade ceramic round tiles in any other of our color options, contact us
here
.
Penny rounds are so called because the traditional tile is the same diameter as a penny. Mercury Mosaics hand-crafted penny rounds are closer in size to a half dollar making them fifty times as valuable as the traditional penny round. Unfortunately, "Half-dollar rounds" doesn't have the same ring (or the storied history) so keeping the classic name was a no-brainer. No matter the name, these handmade ceramic Penny tiles are fun and playful.
Penny tile has been used on bathroom floors for years, but never achieved the commonplace usage that the hexagon tile did. This happy accident makes them familiar, yet interesting. Their round shape is also evocative of water, making them a logical choice for the bathroom.
Like most small floor tiles, penny round floor tiles have formerly come in white and black. What makes Mercury Mosaics handmade Penny Rounds really desirable is the ability to make them pop with bright colors. Nearly all of our signature colors are available on these joy-bringing rounds. A gorgeous green or a soothing blue are perfect colors for a powder room floor or a full master bath, and we can make them both.
Looking for even more colorful tile inspiration? Our Bubble tiles are quintessentially classy… and fun. Simple to complex, Bubble tiles are sure to make an impact on your space and all who venture there. In a single color or one of our house blends, these Bubble Mosaic Tile Backsplashes will impress mightily.
Their effervescent style can't help but remind one of food and drink, which is why they are perfect for a kitchen backsplash. A soak in a deep tub is also accompanied by foamy lather, which is why Bubble Tiles are also perfect for your bathroom. And the bar wouldn't be complete without some sparkling mixers, also a perfect spot for our Bubbles. The garage is a good spot to soap down your car and perfect for Bubble Tiles… okay, that might be a stretch. However, these beauties can go in a nearly any location to good effect.
Our Bubble tiles come on specially designed sheets constructed in such a way that the seams between the sheets are invisible once installed. Also available in a trim to inset in a wall of subway, our hand-made Bubble tiles can also add just a bit of pop to a more subdued style.
Sometimes a person wants their Bubbles unleashed from the confines of a normal sheet, and we totally get that. If you want your Bubbles "gliding" across your wall or stacked up on your stove, we can accommodate these custom designs as well. Just go to our design page to get rolling on your bubbly masterpiece.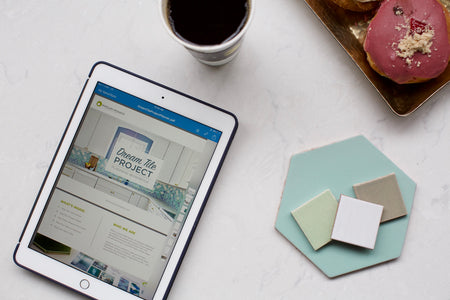 Try Before You Buy
Sample Packs
You can envision and design your space much easier with tile samples (and coffee) in hand. Try one of our foolproof sample packs.
Shop Sample Packs