Shop Handmade Tile
   Our labor of love is a culmination of over a decade of dedication, inspiration and intense heat!

Our style ranges from timeless to modern.
Whatever your handmade tile goals, our aim is to help you find just what you're looking for.
Our favorite handmade tile shapes are here in the store for you to see and love. But you might wonder what exactly differentiates a handmade ceramic tile. Simply put, it is made by hand - by people instead of machines. 
Our factory is much like a tile bakery, where each tile is cut with care into bubbles, hexagons, subway tiles, diamond tiles or Moroccan Fish Scales – then put into the kilns to bake to lustrous glory. Mercury Mosaics tile is set apart by its beautiful glazes and unique shapes. Our glazes are hand-painted (applied with a brush) instead of sprayed or dipped. This is what causes the beautiful variation in the glaze, and makes the tiles look hand-made, just like they are!
Handmade ceramics, while absolutely beautiful, are not for everybody. Inherent to the tile is some amount of imperfection, a result of the process, and the fact that people are individuals, not robots. That personality makes it into the tile. And just like people are not perfect, neither is the tile. There will be some difference in dimensions from tile to tile. There may be glaze imperfections, and some tiles may not be pancake flat. We believe these imperfections add to and enhance the handmade look.
At Mercury Mosaics, each handmade tile gets that extra amount of care and attention to detail that commercial ceramics lack. Our artisans take great pride in giving the tile its own life, putting in that little something extra you can't quite put your finger on. Our ceramic wall tile and floor tile is suitable for indoor use, whether in your kitchen as a backsplash, in your bathroom shower, or even surrounding your fireplace. We do offer an outdoor tile as well. If you need tile for an outdoor usage, we can quote that for you if contact us. Factually, if you have any questions or comments we would love to hear them.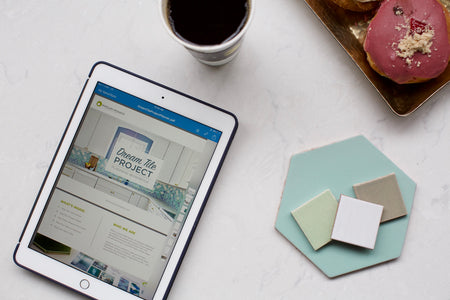 Try Before You Buy
Sample Packs
You can envision and design your space much easier with tile samples (and coffee) in hand. Try one of our foolproof sample packs.
Shop Sample Packs