Moroccan Fish Scales
Our signature shape, inspired by the glistening movement of the gently rolling sea. Particularly popular in showers and bathrooms, these Moroccan fish scales are just as beautiful and striking in a kitchen or entry. This fish scale tile can be installed in all directions for stunning effect, helping you create your own personal oasis.
They've been called mermaid tile, scallop tile, wave tile, ogee drops, sea tile, fish tile and a slew of others, but our hand-crafted variation we affectionately call the Moroccan Fish Scale Tile. Our tiles were created to be visually pleasing, with a tip that is neither too sharp nor broad and a balance of overall width and height on each tile that makes them flow in all directions, much like the water they represent.
Manufactured with the end use in mind, our Moroccan Mosaic tiles come mounted on mesh-sheets, making them a breeze to install. Whoever is installing will save time and the final result will be an even more beautiful wall of shimmering shapes.
People love these scallop Moroccan Mosaic tiles, making them our most-popular and best-selling shape. You may have fond memories of the rolling ocean, the endless horizon, the sparkling sun and the hot sand. These memories seem to be a part of the fabric of human experience, and it is no surprise that this shape of ceramics brings back the cheerfulness and lack of concern associated with earlier happy times.
The star Moroccan Fish Scale color is 1017E Sea Mist: a calm, lagoon green with lots of variation reminiscent of the ripples you might see as a turtle pokes its head up in calm backwaters. It changes from green to blue-green depending on lighting conditions. While fish scales are most commonly used in blues and greens in bathroom settings, we love our clients that are willing to do something a little different too! These Moroccan Fish Scale Tiles look sexy and sleek in a satin black. They can even fit into a farmhouse aesthetic in 130 White. Go a little wild and put some bounce in your space with our Moroccan Fish Scale tile.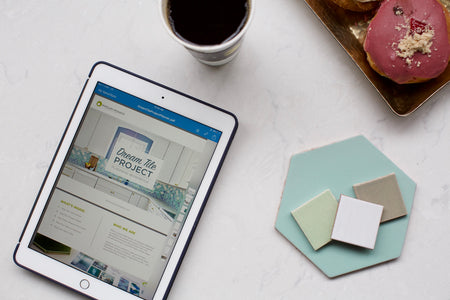 Try Before You Buy
Sample Packs
You can envision and design your space much easier with tile samples (and coffee) in hand. Try one of our foolproof sample packs.
Shop Sample Packs