Personal Style Guide
Every incredible interior comes from the same place—the mind. As an idea, a vision, or any assortment of influences and inspirations. This survey is a starting point on your own path to a space that is truly personal. 
A Notable Difference
Our analog process isn't about nostalgia for the old ways. It's a commitment to the way tile should always be made. We aren't the only ones who care. To our customers, a better tile makes a massive difference in the spaces where they reside.
I love my new tile! Using Mercury Mosaics was a dream come true for me. The first photo in my kitchen remodel folder was a screenshot from their website. My kitchen is easily my favorite room in my house. The planning and ordering process was easy and the staff communicated well and gave me confidence. I also appreciate the respect and support for the employees that the owner shows. I love investing in a business that shares my values. You have a choice- put your money where it matters. Thank you, Mercury Mosaics!
- Mary Daniels
Mercury Mosaics was very easy to work with and I love the tile. I had a custom design made. I felt the designer listen and got what I wanted and included it in the design. The process was easy and pretty quick. The tile has so much character because it is handmade and has almost a 2D effect. The tile arrived well packed in boxes and instructions on how to put the design together. Now, I look at all the surfaces in our house wondering what else I can tile.
- Radostina Yakimova
Working with Mercury Mosaics is an amazing experience! Not only do they have unique, beautiful, creative tiles, but their customer service and custom capabilities are unsurpassed! Love love love what we created together. If you want something that everyone will admire and you want a collaborative experience creating it, these folks are your answer!
- Kristine Sullivan
Mercury Mosaics was fantastic to work with! From the design phase to the day in picked my tile, I thoroughly enjoyed the process. My designer listened to my ideas and presented me with a variety of options, and staff at the studio were so helpful in picking out samples to take home to try. The tile was ready a few days before anticipated. The tile is absolutely beautiful! Exactly want I wanted!
- Anna Henry
We had the absolute pleasure of working with Mercury Mosaics on a project where we used their fish scales tile in 3 bathrooms all in different, but all equally as beautiful, colors. There were a million small details that needed to be accounted for, which edges needed to be finished, the quantity of trims + moldings and they worked tirelessly to help us figure it all out and always with a positive and pleasant attitude. The results are stunning, our clients are thrilled and even the tile installer said they loved working with the material!
- Kroesser Strat
Get Inspired
See the latest and greatest in our Inspiration Gallery for ideas on your next tile project.
See Inspiration Gallery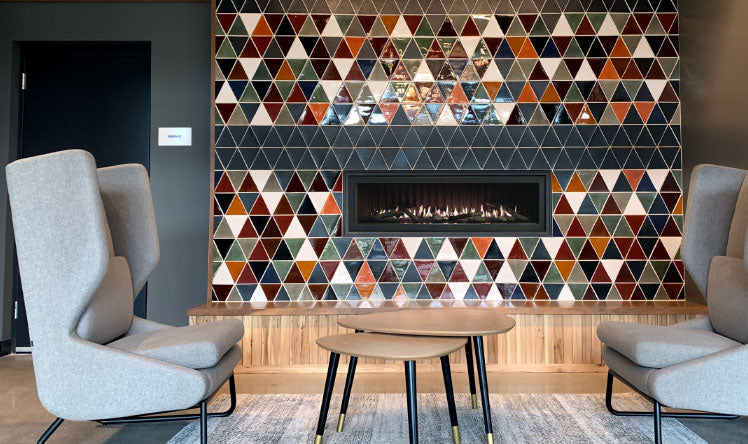 Get a Free Quote
Tell us: shape, color, quantity, design notes and anything else you want us to know about the tile project you're working on and we'll get back to you - supporting you with the information you need to continue your tile project planning.
Send message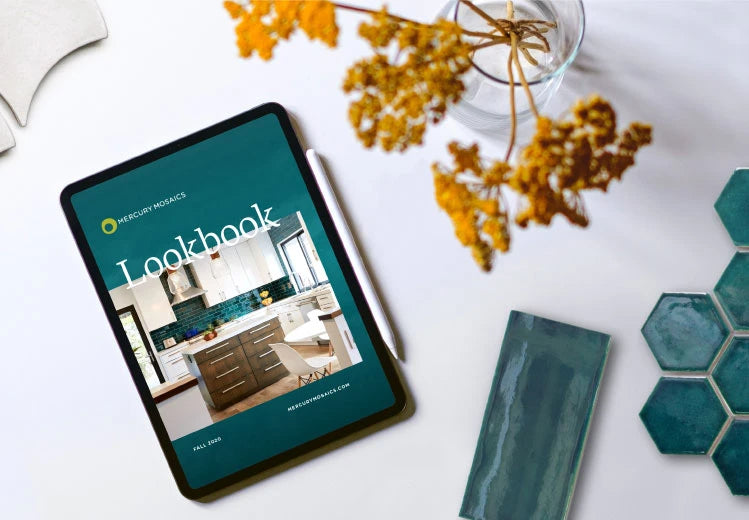 Handmade Tile Never Goes Out of Style
But our shapes and colors are endlessly adaptable. Our latest lookbook showcases designs in a range of looks from designers and homeowners across the country.
Get the Lookbook