Rectangles & Squares
A true classic that's anything but ordinary, our handmade subway tile is a building block for endless patterns, arrangements, and design choices. Rectangular, square, staggered, or stacked subway tiles can suit nearly any taste or space, adding their unique tone into the symphony of your design or taking center stage as a focal point of tile beauty.

Handmade ceramic subway tile are perfect for any tile application. They are the basic building block of tile - and for good reason - given the variety of uses to which they can be put. 1013 Denim on a 2x4 is an ideal calm blue mosaic subway tile backsplash for a kitchen. Interested in creating a clean Scandinavian kitchen, with some warmth? Try 301 Marshmallow or 130 White in a 3x8. Or you could put 1036W Bluegrass to work on your bathroom floor in a 3x12 subway for a deep green paradise. Maybe you want to go bright and bold with your subway bathroom tile. Well that takes nothing more than selecting 1017E Sea Mist on your subway. These are a few examples that serve only to show how truly versa(tile) these mosaic subway tile backsplashes are.
 And while most people decide on a single color, there is no rule that states a mosaic subway tile backsplash must be monochromatic. Our artisan subway tile come loose, so it is easy to mix and match a couple or three colors in your project. Try 1017E Sea Mist and 1015E Caribbean Blue to make the ultimate beach paradise. Mix 130 White and 11 Deco White for a more varied neutral look. Or pair 366 Satin Black and 301 Marshmallow for a satin checkerboard. Not sure if you would like it? Easy, order samples and see how they look before you commit.
If you are sensing a trend, you are right. We can give a lot of suggestions because there are a LOT of options. These make it possible to really customize your look and get that exact thing you are looking for.  And this is just color and size of rectangle! This doesn't even include our mosaic subway tile backsplash shapes.
For some this might be overwhelming. If that's you, don't worry! We are here to help you. We can give advice on anything tile, and we are even adventurous enough to suggest other finishes as well (if you want us to). Email, call, or come in to our home base in Minneapolis, we want to hear from you.
Have something else in mind that you don't see? Just reach out to us and we can quote it for you.
Finally, If you are wondering what the difference is between field and subway tile, the answer, really is nothing. Field is a term that generally distinguishes large tile from mosaics (small tile), but there is no strict rule on the cutoff between field tile vs. mosaic tile, and so, to prevent confusion, we just call all our squares and rectangles subway tile.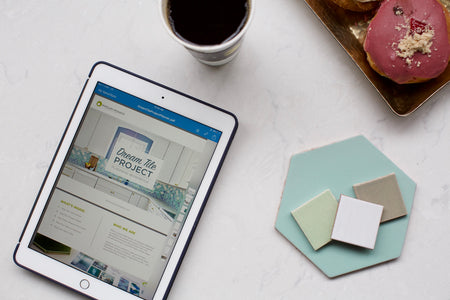 Try Before You Buy
Sample Packs
You can envision and design your space much easier with tile samples (and coffee) in hand. Try one of our foolproof sample packs.
Shop Sample Packs